To introduce our first award of the evening, a very talented actress who you may know as the pre-Fred Thompson DA on
Law & Order
(or as a two time Academy Award Winner), the always elegant Dianne Wiest presenting Best Supporting Actor: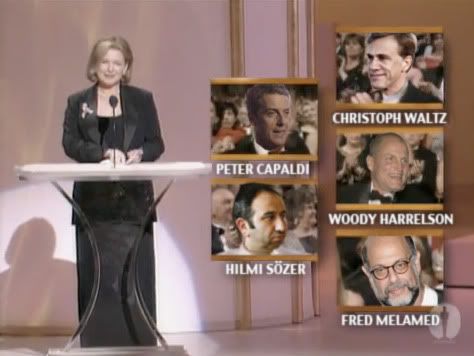 THEE NOMINEES IS:
-
Peter Capaldi (In the Loop)
Everyone spits darts in
In the Loop
, but Capaldi gets the best lines and, even when his character is at a disadvantage, always seems like the most likely to either kill several people or implode completely.
-
Woody Harrelson (the Messenger)
In retrospect, it's almost inevitable that Woody was eventually gonna get a part as a a troubled but hilarious alcoholic and hit it out of the park.
-
Fred Melamed (A Serious Man)
There were some great monsters in the movies last year, and Fred Melamed's terrifyingly "nice" Sy Ableman is definitely one of them. I cringed every time he touched Michael Stuhlbarg's cuckold, and I'll take him here over Richard Kind's yelling from the bathroom (which was also great).
-
Hilmi Sözer (Jerichow)
This is maybe, slightly category fraud-ish, but Sözer doesn't actually have the lion's share of the screen time in
Jerichow
and I need to honor him somewhere. The film simply doesn't work unless his performance is amazing, and it is.
-
Christoph Waltz (Inglorious Basterds)
He really is just so damn good in every scene of the movie he's in. Watching
IB
a second time, knowing the choice that Hans Landa makes at the end of the movie, made the way he builds the character seem even more impressive.
¡WINNER!:
Hilmi Sözer
. Waltz deserves every award that he's getting (it's not like the Oscars were going to nom
Jerichow
), but I have to rep for Sözer here. He's tasked with giving a real emotional performance opposite actors who are being purposefully one-dimensional and he does it brilliantly. This awesome movie would be a disaster if he wasn't so good in it.