Moving along, here's Fordham University's own Denzel Washington to present an award to some folks who make fake worlds possible. Here it is, Art Direction and Production Design.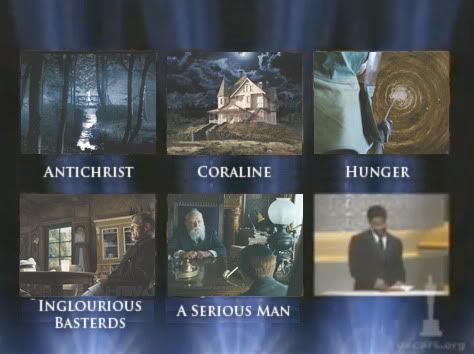 THE NOMINEES:
-
Phil Brotherton, Bo Henry, Tom Proost, and Henry Selick for Coraline
Dark, fantastic, and slightly thrift store-y is pretty much what you would expect from Henry Selick and that's what's here. But it's great, and there's not one but two worlds of it.
-
Karl Júlíusson and Tim Pannen for Antichrist
If you're gonna make a cabin/forest to stage Woman's explosion/revenge for a history of oppression, you better design the hell out of it. This is dark.
-
Jess Gonchor and Nancy Haig for A Serious Man
Rabbi Marshak's office and Larry's neighbor's house are both absolutely perfect.
-
Tom McCullugh and Brendan Rankin for Hunger
The shit-stained walls of the Maze cell have an incredible texture. Hypnotic shit.
-
David Wasco and Sandy Reynolds-Wasco for Inglourious Basterds
The claustrophobic farmer's house, the grand theater on fire, the bar (with its tucked-away, villain-hiding corner), the tower in the film-within-the-film. The sets in this are
WIN:The Wascos
win it. I was going to give this to
Coraline
until the last second, but thinking about how many of the sets in
Inglorious Basterds
I remembered in detail swung it. It might be Tarantino's overall best looking movie ever.