Our final award of the night (you think the Oscars take a long time), is presented by the lovely Holly Hunter. Have you seen
Copycat
? You should see
Copycat
. Harry Connick Jr.'s great in that too. Here's Best Original Screenplay!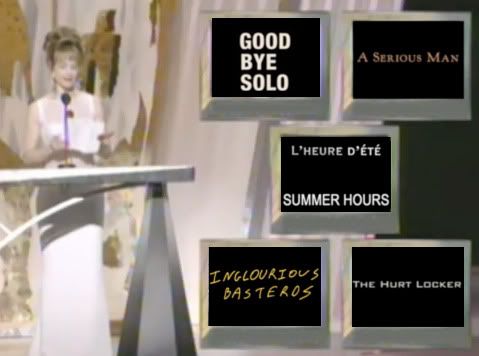 -
NOM'D
:
-
Olivier Assayas for Summer Hours
Whether or not you think Assayas coming back from B-movie Land is good, I'd think you'll be able to find something interesting in his reflection on what objects mean to us. The way he ends it (this is not the type of movie that can really be spoiled) with a new generation is wonderful.
-
Bahareh Azimi and Ramin Bahrani for Goodbye Solo
The relationship between Senegalese driver Solo and suicidal old grump Red is written with warmth, grit, and an eye towards realism. It's another great movie from Bahrani (his 2nd co-written with Azami) about, to be purposefully reductive, America.
-
Mark Boal for the Hurt Locker
Boal's script gives equal energy to investigating the psychological makeup of its characters and investigating the Action/War Movie Hero as a type.
-
Ethan and Joel Coen for A Serious Man
It's some of the most effectively dark comedy they've written in a while, and it's overflowing with great ideas, not the least of which a character who for the first part of the movie is only heard screaming from the bathroom.
-
Quentin Tarantino for Inglourious Basterds
I don't mean to keep harping on it, but
Death Proof
really sucked. So that the dialogue here is filled with so much tension, comedy, hell, even relevance to the plot and characters, is both a relief and an immense pleasure.
-
WIN'D
I'll give this to
The Coen Brothers
for taking their style to an even darker place and doing so with a considerable amount of very hard earned laughs. The irony and cynicism not only let the emotion shine through; they enhance it.