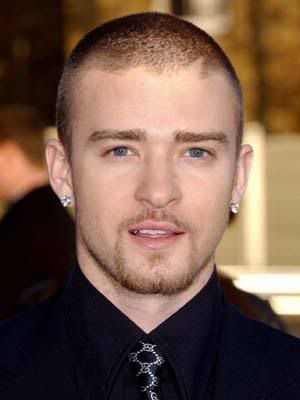 The stars, pictured sans hats.
Ashton Kutcher: Ruiner of television, fucker of moms,
liar
.
Justin Timberlake: Dancer of dances, maker of music,
defender of truth
.
Ashton, in addition to being the worlds biggest tool (except for sometimes when the moon is full and I totally secretly think he's funny which I'm just kidding, that totally never happens), is going around telling everyone that he was responsible for the terror that was the trucker hat craze of 2003. Yes ladies and gentlemen, he
wants
to claim responsibility for the army of Von Douches that I experienced during my freshman year at Fordham. But hold up, JT - what have you got to say about all this? You used to wear trucker hats too! Along with 75% of American broheims! The 27-year-old singer/actor/dancer/Britney Spears destroyer told
Fashion Rocks
(which is part of
Vanity Fair
...how again?), "It's funny, I keep hearing Ashton Kutcher say how he was responsible for trucker caps." He continued by saying that he and his best friend Trace Ayala "were wearing them when we were seventeen." OMG J,
ten years ago
?! FASHION. ICON. Feed us wisdom God of Garments! "We kind of just never cared [about fashion]...we kind of still don't."
He laughs at your silly peasant questions! HAHAHAHAHA.We worship you Justin! Just
never host a sports award show again
. OK? No really. I'm not fucking with you. GOT IT?! OK.