It was much easier narrowing Adapted Screenplay down to 5 this year than it was narrowing down its Original counterpart category. Nevertheless, these 5 are awesome. Speaking of awesome, here's Gene Hackman to tell you about them.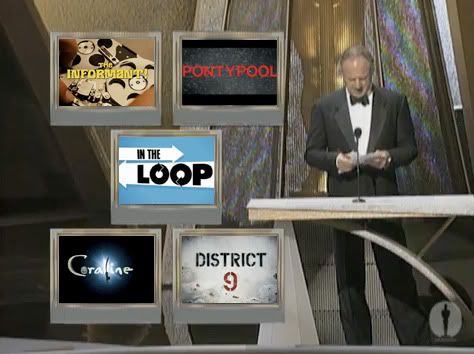 -
I NOMIT8 U
-
Jesse Armstrong, Simon Blackwell, Armando Ianucci, and Tony Roche for In the Loop, spun-off from the TV show The Thick of It
Some characters in
In the Loop
are written so that you're almost scared for them to come on the screen, because they're gonna say something so darkly and angrily hilarious you might not be able to take it. That's a fucking comedy script.
-
Neil Blomkamp and Terri Tatchell for District 9, expanded from Neil Blomkamp's short film Alive in Joburg
It's an excitingly plotted, politically interesting movie. The trope of a character who works for a giant organization or government and slowly discovers its evils is not an uncommon one, especially in movies about the future or alternate timelines, but Wikus totally works as a naive little prick who is in way over his head.
-
Tony Burgess for Pontypool, adapted from his own novel Pontypool Changes Everything
Semiotic Zombie Flick is a great hook (if your target audience is me), and
Pontypool
delivers, even (maybe especially) when the characters have to talk their way through figuring out how they're gonna get out of their besieged radio station.
-
Scott Z. Burns for The Informant!, adapted from the Kurt Eichenwald book of the same name
It's not saying too much that
The Informant!
had the most entertaining inner monologues of the year, but their progression from slightly unhinged and obsessive to completely out there is an achievement in both character development and comedy.
-
Henry Selick for Coraline, adapted from the Neil Gaiman novel of the same name
I'm a sucker for kids stories that are both very dark and very gorgeous, what can I say? The differences between the "real world" and "other world" characters are wonderfully written.
-
W1NN3RS
:
All those In the Loop guys
. It was the funniest movie of the year and it's not even close. To reduce it to a lot of cursing doesn't give it nearly enough credit, (though the cursing is really great). There's a wealth of great characters here, and about a billion great lines.