Two decades after being snubbed for his heroic performance as Balldozer in YMD favorite
Vision Quest
, Forest Whitaker won an Oscar for a very good performance in the otherwise very boring
Last King of Scotland
. Good for him. Here he is presenting the Maciej for Best Supporting Actress.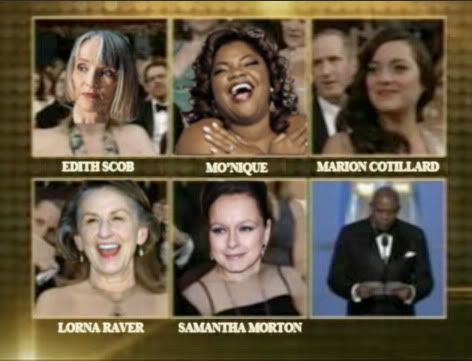 SUPPORT THEM
:
-
Marion Cotillard for Nine
Please don't take this as any sort of approval of
Nine
; it's quite the opposite. The fact that Cotillard was able to pull a memorable, human performance out of such a terrible mess of a movie is simply amazing.
-
Mo'Nique for Precious: Based on the Novel "Push" By Sapphire
Completely batshit and understandable without being the least bit likable, Mo'Nique's performance is as amazing as everyone says it is.
-
Samantha Morton for The Messenger
When you first see Morton's character she is reacting to her husband's death by consoling the messengers. She makes it seem like the most natural reaction one could have.
-
Lorna Raver for Drag Me to Hell
Granted, a lot of this is makeup. But a lot of it is also awesome physical and voice acting. It's one of the most fun to watch performances of the year.
-
Edith Scob for Summer Hours
As the matriarch in Olivier Assayas'
Summer Hours
, Scob is lively and thoughtful. Her eyes in an early scene in which she receives b-day presents are more expressive than Oscar Nominee Anna Kendrick's whole body.
MOST SUPPORTED BY ME
:
I just can't bring myself to pick against
Mo'Nique
. Her performance is one of the most genuinely disturbing in years (and to be honest there's definitely residual love from
Beerfest
and her Real Talk with respect to the Oscar process).